Dental Implants in South Brisbane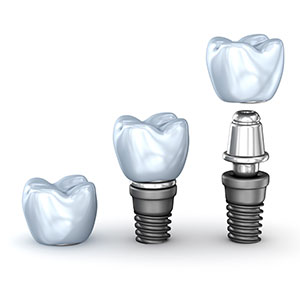 If you've lost a tooth, it's likely that you have considered filling the gap to regain the look and function of your smile. Missing teeth affect your self-confidence as well as the alignment of your bite and ability to eat and speak. Dental implants, available at Melbourne St Dental Studio, act just like a natural tooth.
Preventing Further Tooth Loss
Dental implants don't just help you chew and talk as you would like. When a tooth is lost from trauma or extractions, the bone in the area will shrink. Adjacent teeth can then start to drifting into the space, which can lead to further tooth loss.
If you know that you're going to have an extraction, we'll advise you straightaway on your options for tooth replacement. If you've lost a tooth from an accident or trauma, we suggest that you promptly seek help to discuss preventing these side effects.
Why Choose Dental Implants?
When compared with other forms of tooth replacement, there are many advantages to having dental implants:
An incredible 98% success rate
Noninvasive to other teeth
Easy to maintain and care for
A lifelong solution
Extremely durable
You can expect your dental implant to last for a lifetime as long as it's properly cared for. You must brush, floss and have regular dental checkups, treating it like a natural tooth.
What to Expect
There are different phases of treatment involved in the implant process. During the first, the titanium implant is placed in the jawbone. Then, a healing period must be allowed to pass, usually taking about three months. Meanwhile, you can receive a temporary restoration like a crown on the implant.
After the area has healed, you can return to have a denture, bridge or crown attached on the dental implant, depending on what is most appropriate for your situation.
All-on-4® and All-on-6® Dental Implants
If you have missing teeth, you likely feel too self-conscious to smile. At our dental practice, we love to help restore the smiles of our patients. One of the ways we do that is with All-on-4 and All-on-6 dental implants.
The All-on-4 and All-on-6 treatment concept is a cost-effective, graft-less solution that offers patients a fixed full-arch prosthesis on the day of surgery. They're ideal if you have most or all of your teeth missing.
Prevents future bone loss
Improves oral health
Quickly improves the quality of life
Allows you to eat your favourite foods
Improves functionality
Makes oral hygiene easy
Instead of having to undergo successive implant surgeries, the all-on solution enables Dr Andrea Perdis (Dentist) to restore all the teeth on your maxillary and mandibular jaws. Only one oral surgery is needed instead of several ones. There are 4-6 implants involved and a fixed bridge if there's no need for bone augmentation. Additionally, Dr Andrea determines depth, angle and distance as the implants are placed in the jaw.
All-on-4 implants utilise 4 implants — 2 on the upper jaw or maxillary jaw and 2 on the lower jaw or mandibular jaw, to connect 4 rows of dental bridges. The All-on-4 option is preferred by many implant candidates who are missing most (if not all) of their teeth. All-on-4 is cost-effective; like most tables, having four posts or legs is sufficient to create a stable structure.
All-on-6 implants include an extra 2 implants to anchor the dental bridges to be tighter and more robust.
Request an Appointment
Contact us today to learn whether dental implants South Brisbane are right for you! All health funds are accepted at our clinic, and we're preferred providers for Bupa and HCF.
Any surgical or invasive procedure carries risks. Before proceeding, you should seek a second opinion from an appropriately qualified health practitioner.

Dental Implants South Brisbane, West End, Milton, South Bank QLD | (07) 3217 2900