Invisalign® in South Brisbane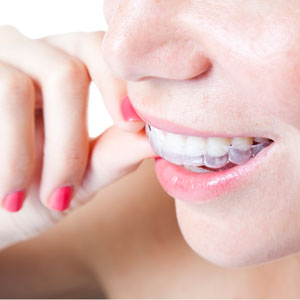 If you'd like to gain greater confidence in your appearance and show off a beautifully aligned smile, Invisalign may be the ideal solution. It allows for discretion while addressing problems such as gapped teeth, crooked teeth or a misaligned bite. At Melbourne St Dental Studio, we've helped numerous people get the results they've been hoping for, often in as little as 12-18 months.
How Invisalign Works
The treatment consists of wearing a series of nearly invisible aligners that can be removed as you wish. They're changed out every two weeks, slowly shifting teeth into the desired position.
Dentist Dr Andrea Perdis is an accredited Invisalign provider and will show you the movement that will happen to your teeth up through the end of treatment.
Your aligners are custom-created in the Invisalign laboratory, with each fabricated to create the desired changes to your smile.
The Benefits of Invisalign
There are many reasons that people around the globe are choosing Invisalign:
Checkups are of a shorter duration
Comfortable with no brackets or wires
Gentle on teeth with no adhesive necessary
Protects your oral health by allowing for normal brushing and flossing
Removable for events or mealtimes
Requires fewer dental checkups
What to Expect
After we have evaluated your situation and decided that Invisalign is the best option, we'll gather the necessary data such as impressions. The information is sent to your laboratory so that the aligners can be created. They're then returned to us. You'll pick them up along with full instructions on when to switch and book your follow-ups.
Your aligners are worn for 22 hours a day, so you can remove them if you have a job interview, meeting or dinner date.
Frequently Asked Questions
What are the main benefits of Invisalign treatment?
Fewer visits to our practice are required, which is ideal for those with busy schedules. Another fantastic benefit is that the aligners are much less conspicuous than ceramic and metal braces, so you can straighten your smile discreetly.
What type of orthodontic issues can the system address?
Invisalign is ideal for correcting open bites, and intruding teeth, correcting overjets, gaps and mild to moderately crowded teeth.
Are there any foods I need to avoid during my treatment?
No, that's one of the greatest benefits of the Invisalign system. Because the aligners are removable, you can enjoy all your favourite foods! Tip: if you choose to eat with the aligners it will actually accelerate the process, but I would caution against eating hard or sticky foods with your aligners, as they may fracture.
How long will my Invisalign treatment take?
Every case is different, but we've been able to help some patients in only 12-18 months.
Invisalign treatment cannot expand a narrow palate or jaw, and is not ideal for TMD patients and people with deep bites, as it may intrude the posterior teeth, which may impact the jaw joint capsule space. Invisalign can only provide 2mm of expansion. However, 6mm expansion may be achieved with the Damon wire system or even more with fixed expansion appliances.
A quick and predictable way to achieve space with Invisalign is to perform interproximal reduction or narrowing of teeth. This is usually performed on the lower incisors as required with Invisalign.
Ready for your best smile?
It is important to note that there are limitations to what can be achieved with Invisalign. We'll be happy to consult with you and determine if it's the right option for you. Contact us today to schedule a same-day appointment for Invisalign South Brisbane!
Any surgical or invasive procedure carries risks. Before proceeding, you should seek a second opinion from an appropriately qualified health practitioner.

Invisalign South Brisbane, West End, Milton, South Bank QLD | (07) 3217 2900