Wisdom Teeth Removal in South Brisbane
The team at Melbourne St Dental Studio provide a broad range of dental solutions to make sure that you enjoy a happy, healthy smile. If you or your child are concerned with your wisdom teeth, we can evaluate you and determine whether they need to be extracted. If so, we can decide the best way to proceed to keep the procedure efficient and easy on you.
Why Wisdom Teeth May Require Removal
Your wisdom teeth are usually the last to erupt in the mouth. There are two in the upper part of the jaw and two in the lower. They usually begin to develop in your teenage years to late twenties. Some wisdom teeth might never cause problems while others can result in tooth decay, pain, crowding of teeth and worse.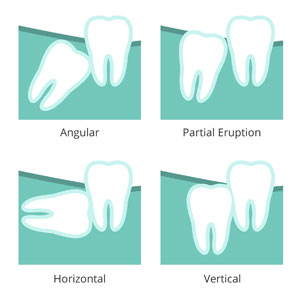 The following are signs that you may require wisdom teeth extraction:
Crowding teeth
Damage to the adjacent teeth
Discomfort
Gum disease
Impaction
Tooth decay
Tumours or cysts
Determining Your Needs
It's important to find out whether your wisdom teeth will need to come out or if they're going to grow without complications. Our team is experienced in providing consultations for wisdom teeth removal South Brisbane. We will take the necessary X-rays to see the position of your wisdom teeth to determine if extraction is necessary.
If so, we will use sedation to keep you comfortable and numbed during the procedure. Then, we'll begin the removal, having done our homework to understand the best and quickest way to complete the process. Afterwards, we'll advise you on all postoperative care so that you know what to eat, drink and refrain from doing in the days following your wisdom teeth removal.
Payment Options
We accept all health funds and your rebate can be claimed on the spot with HICAPS. We're preferred providers with Bupa and HCF. If you do not have coverage for wisdom teeth removal, we will be happy to discuss our payment plans, which are available with 0% financing. Contact us today to book your appointment!
Any surgical or invasive procedure carries risks. Before proceeding, you should seek a second opinion from an appropriately qualified health practitioner.

Wisdom Teeth Removal South Brisbane, West End, Milton, South Bank QLD | (07) 3217 2900