Tooth Extractions in South Brisbane
We believe in protecting your natural teeth whenever possible. In certain times, however, you may require a tooth to be removed. There are many common reasons that people require dental extractions: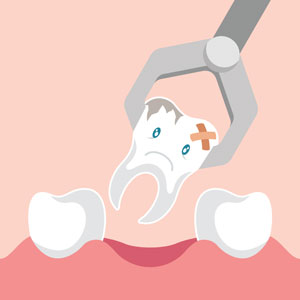 Baby teeth that are preventing permanent ones from erupting
Severe tooth decay/toothache
To complete a full mouth rehabilitation
To create space for an orthodontic treatment
Trauma or a dental emergency
Wisdom teeth that don't erupt properly
Consultations for Wisdom Teeth
Your third set of molars, also known as wisdom teeth, don't always have the space to erupt as they should. The resulting crowding can impact the wisdom teeth, leading to infection, pain and decay in these hard-to-reach teeth. In many cases, we recommend the proactive removal of wisdom teeth before problems can develop.
If you're wondering whether you or your teenager require the removal of wisdom teeth, a thorough examination is necessary. During this exam, we will take X-rays of the teeth and jaws to determine where the wisdom teeth are located. We can then see if removal is needed, and if so, the best way to proceed.
A Comfortable Experience
No matter which procedure you have done at our practice, we want you to be relaxed and comfortable. To reduce any discomfort you may feel, we can provide pain relief measures for extractions South Brisbane. We'll discuss your health history to make sure that you are a candidate, then go over all possible options with you so that you can decide what you'd like to do.
Payment Options
We provide payment plans with 0% down and accept all health funds. Your rebate is processed on the spot with a HICAPS machine. We're also preferred providers for Bupa and HCF. Contact our friendly, experienced team today by phone or email to get your first appointment scheduled! Early and late opening hours are available for your convenience.
Any surgical or invasive procedure carries risks. Before proceeding, you should seek a second opinion from an appropriately qualified health practitioner.

Tooth Extractions South Brisbane, West End, Milton, South Bank QLD | (07) 3217 2900