Meet Dr Andrea Perdis, BDS (Hons)
A Passion for Helping Others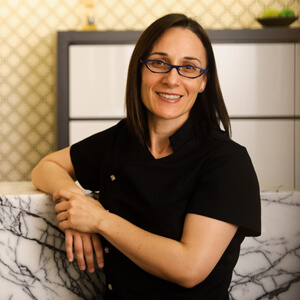 Dentistry was the perfect career choice for Dr Andrea, combining her creativity, hands-on talent and a desire to make a difference in the lives of others. She completed her studies at the University of Queensland, graduating in 1991 with a Bachelor of Dental Science (Honours).
Additional Qualifications and Memberships
Since that time, Dr Andrea has completed a two-year postgraduate programme in Orthodontics and Early Intervention Dentofacial Orthopaedics. She is passionate about professional development and has also completed additional training in TMD or Temperomandibular Jaw Disorders and Cosmetic Dentistry.
Her training includes;
A mini residency with Dr Steve Olmos in Comprehensive TMD Diagnosis and Therapy including Sleep Management;
Completed modules I-VI from the Las Vegas Institute for advanced studies in cosmetic and full mouth reconstruction, including TMD treatment.
More recently further studies in Orthotropics or Facial Development using Growth Appliances, and Myofunctional Training in Orthodontics.
Facial Aesthetics including muscle relaxant therapy for TMD.
Neos Implant Training.
Dr Andrea is a valued member of:
Australian Dental Association (ADA)
International Association for Orthodontics (IAO)
American Academy of Craniofacial Pain (AACFP)
Australian Society of Endodontology (ASE)
Australasian Academy of Dento-Facial Aesthetics and Training (AADFA)
One of Dr Andrea's most memorable experiences involved a patient at the Portsea Army Camp for refugees from Kosovo. Dr Andrea was the dentist in charge for the camp located at the Portsea Army Barracks, Victoria, Australia. A patient Dr Andrea treated had lost his front teeth while avoiding a grenade and would walk with his head down, ashamed to show his missing teeth. After Dr Andrea rebuilt his smile, he walked with his head high again. The entire camp was elated with the change in the boy's demeanour and to see him smile again. This is one of Dr Andrea's proudest moments in her career.
Outside of the Practice
In her spare time, Dr Andrea likes to balance her work and home life by spending valuable time with her daughter and family, going for walks, being out in nature and sharing good meals with her loved ones. Dr Andrea loves to keep fit with gym work, yoga and her beloved pilates sessions.
Contact Melbourne St Dental Studio in South Brisbane today to schedule your first appointment! We have convenient early and late opening hours.

Melbourne St Dental Studio | (07) 3217 2900